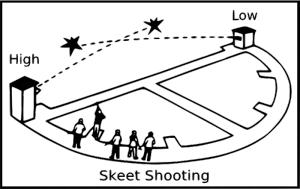 Skeet shooting is a recreational and competitive activity where participants, using shotguns, attempt to break clay targets mechanically flung into the air from two fixed stations at high speed from a variety of angles.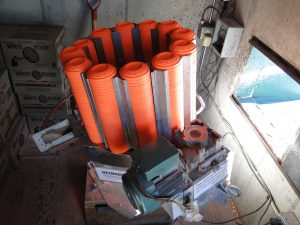 In Trap shooting, the targets are launched from a single "house" or machine, generally away from the shooter. Trap is one of the three major disciplines of competitive clay pigeon shooting. The others are Skeet and sporting clays.
PLEASE WATCH THE  SHOTGUN RANGE SAFETY VIDEO  (courtesy of Clark County Shooting Complex)
Welcome to the RFVSA Shotgun Club. In order to ensure utmost safety for both shooters and spectators there are rules and regulations that must be strictly followed on our shotgun ranges. 

Range safety officer, that's RSO, instructions must be followed at all times. All range users and shooters are personally responsible for range safety report any concerns to an RSO. All persons on the shotgun ranges are required to wear ear and eye protection. Do not point your firearm at anyone at any time. Uncased guns must be carried with the breech open empty and muzzles pointed up. If it is a break open gun the muzzle may be pointed down. All guns must have the action opened and contain no live or empty shells at any time including the magazine. Shotguns may only be loaded while on the shooting station and will be pointed towards the target area only. Guns equipped with release triggers must be properly marked. Only carry ammunition for the firearm you are shooting. Only seven and a half eight eight and a half or nine shot is permitted. Slugs and buckshot are prohibited on the shotgun ranges. Do not pick up empty shell casings from the ground until shooting is completed on the field. A break open gun's action may be closed when it is in a gun rack but it shall not contain a live or empty shell. The practice of resting the muzzle of a shotgun on a shooter's toe is discouraged. Spectators are not allowed on the fields during shooting without special permission except for handicapped persons. It is prohibited to shoot while seated or from a shooting cart. Anyone may call a cease-fire at any time if an unsafe condition occurs. Cease-fire when instructed. To cease fire shooters will immediately stop shooting and unload their shotguns. No shooting at unauthorized targets. All shooting will be in authorized areas only. Deposit all trash in containers and cigarette butts in appropriate receptacles. Alcohol and drugs are prohibited on all ranges. Persons who have been consuming alcohol or are under the influence of drugs are prohibited from shooting. Violations will be enforced. Violators may be asked to leave the facility and are subject to criminal and or civil sanctions. Thanks so much for being here at the Roaring Fork Valley Sportsmans Association club. Have a great day and good shooting!
About the Basalt Public Shooting Range
 This OPEN / OUTDOOR range is maintained and supported by the
Colorado Division of Wildlife
in cooperation with the Roaring Fork Valley Sportsmans Association
Sorry, gun rental NOT available
The public range area offers 3 separate fields: 
Pistols up to .50 caliber, and 22 rimfire rifles
Rifles up to .50 caliber
Shotguns for hand thrown targets (bring your own).
Bring your own! No guns, ammo, targets for sale or rent
Visitors must follow all posted rules and regulations
Days / Hours of Operation: 

Closed on Wednesdays!


Mon, Tues & Thur, Fridays: Summer 7-7, Winter 9-4
Sat & Sun: Summer 9am-5pm  / Winter 9am-4pm
Winter hrs are Oct 15 – March 15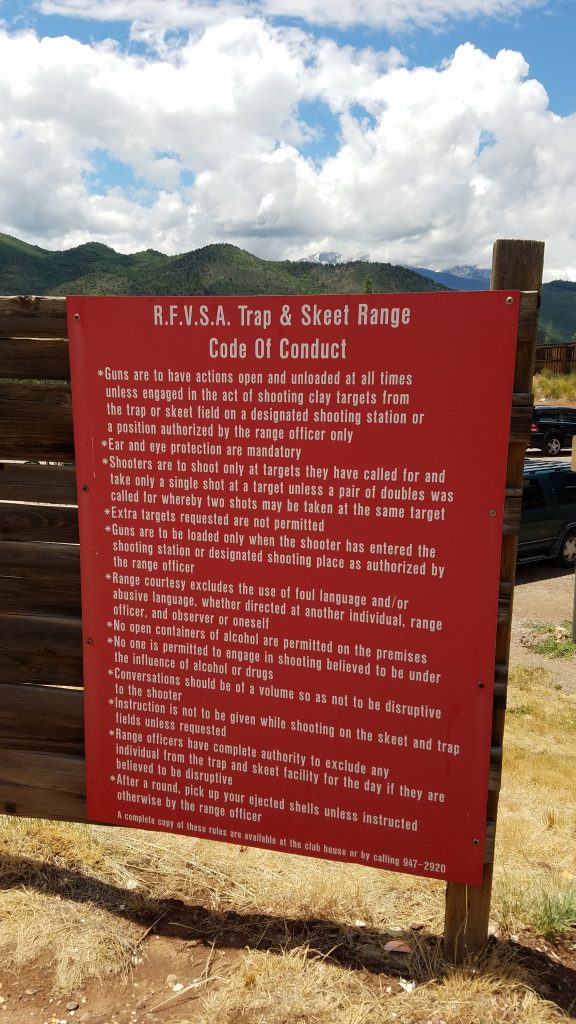 CODE OF CONDUCT
Guns are to have actions open and unloaded at all times unless engaged in the act of shooting clay targets from the trap or skeet field on a designated shooting station or a position authorized by the range officer only
Ear and eye protection are mandatory
Shooters are to shoot only at targets they have called for and take only a single shot at a target unless a pair of doubles was called for whereby two shots may be taken at the same target
Extra targets requested are not permitted
Guns are to be loaded only when the shooter has entered the shooting station or designated shooting place as authorized by the range officer
Range courtesy excludes the use of foul language and /or abusive language, whether directed at another individual, range officer, observer or oneself.
No open containers of alcohol are permitted on the premises
No one is permitted to engage in shooting believed to be under the influence of alcohol or drugs
Conversations should be of a volume so as not to be disruptive to the shooter
Instructions is not be given while shooting on the skeet and trap fields unless requested
Range officers have complete authority to exclude any individual from the trap & skeet facility for the day if they are believed to be disruptive
After a round, pick up your ejected shells unless instructed not to by the range officer
Kids 18 and younger need to have a parent present and a liability waiver signed.
No dogs are allowed (State Wildlife Area)